Bioscience Technology - Staff Picks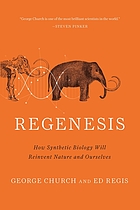 Regenesis: how synthetic biology will reinvent nature and ourselves, by George M Church and Edward Regis. A surprisingly readable book about some of the fascinating work happening in biotechnology.

Biotech Articles
Use library databases to find articles about techniques, discoveries, and businesses.

Access Science
An online version of McGraw-Hill Encyclopedia of Science & Technology and McGraw-Hill Dictionary of Scientific and Technical Terms. In addition to 8,000+ articles there are biographies, research updates, and science news. The student center provides study guides and bibliographies.

Biology Journals
ProQuest. Full text articles from 280 biology journals, many of them peer-reviewed.

Academic Search Premier
EBSCOhost. Full text for more than 4,500 scholarly social sciences, humanities, general science, education and multi-cultural journals. 3,700+ are peer-reviewed.

Medline
EBSCOhost. Covers the international literature on biomedicine, including allied health. Citations available from 1965 - present; some full text.

Science Direct
Full text for over 890 peer reviewed health and life sciences journals. For best results click on SEARCH to get started. Limit your search to SUBSCRIBED Journals.
Coverage Dates: 1995 - Present
Find Sources
Find more! The Library search box is your starting point to find books, ebooks, DVDs, articles, and other materials.
Biotech on the Web
These are good web sites if you're interested in biotechnology.
BIO -- Biotechnology Industry Organization
The largest biotech organization; a great place to look for news about conferences, regulatory issues, intellectual property concerns, and more!
JoVE (Journal of Visualized Experiments) Basic Protocols
The first peer-reviewed video journal! Many articles are available to subscribers only, but most of the Basic Protocols seem to be free for viewing. A great way to learn about new techniques!
Oregon Bioscience Association This is the professional association for the Oregon bioscience community.