Websites
AIGA, the professional association for design
The premier place for design—to discover it, discuss it, understand it, appreciate it, be inspired by it.
DTG: Design, Type & Graphics online magazine
Articles, blogs, forums on many different topics related to desktop publishing, design, marketing, or business in general.
Cooper-Hewitt, National Design Museum
Part of the Smithsonian.
An interactive web site for designers of all disciplines, but watch out for the ad by Google disguised as content!
News from Graphics.com
**Links open in a new window**
Search the Library Catalog
Welcome to PCC Library. The Library Catalog is your starting point to find books, ebooks, DVDs, articles, and other materials.
Graphic Design Staff Picks
This book covers history, perception, and balance.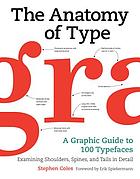 Features full character sets for 100 different typefaces along with detailed information about each type design.
Graphic Design Databases
EBSCOhost Arts article databases
Over 300,000 images covering art, architecture and archeology. Search by artist, medium, subject matter or whatever else you can think of. You can limit your search to Graphic Design and Illustration.
AIGA News Feed
**Links open in a new window**