Don't Look At Black Holes Too Closely, They Might Disappear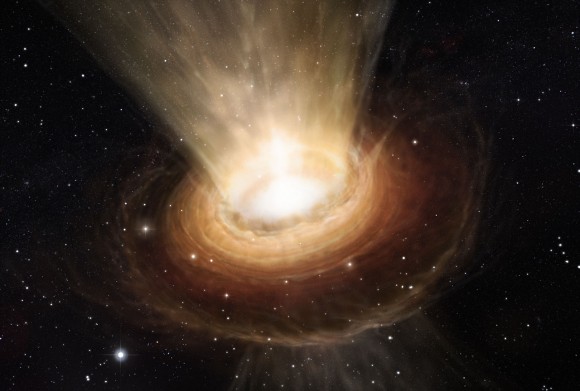 An artist's impression of a supermassive black hole. Black holes are rife with paradoxes, but a new theory suggests that they can all be resolved by agreeing that space and time break down at very small scales. Image credit: ESO/M. Kornmesser
We've come a long way in 13.8 billion years; but despite our impressively extensive understanding of the Universe, there are still a few strings left untied. For one, there is the oft-cited disconnect between general relativity, the physics of the very large, and quantum mechanics, the physics of the very small. Then there is problematic fate of a particle's intrinsic information after it falls into a black hole. Now, a new interpretation of fundamental physics attempts to solve both of these conundrums by making a daring claim: at certain scales, space and time simply do not exist.
Let's start with something that is not in question. Thanks to Einstein's theory of special relativity, we can all agree that the speed of light is constant for all observers. We can also agree that, if you're not a photon, approaching light speed comes with some pretty funky rules – namely, anyone watching you will see your length compress and your watch slow down. [read more...]
Journals
Astronomy
Articles on all aspects of the universe, including astronomy & astrophysics; aeronautics and space sciences; and aviation & space exploration.
Astrophysics & Space Science
Research articles, reviews, and conference proceedings on astronomy and astrophysics. Journal also publishes data from ground-based, space, and atmospheric facilities.
Communicating Astronomy with the Public
Open access (free) journal focusing on the intersection of the scientific astronomical community and society-at-large. Regularly includes news, research articles, reviews, resource recommendations, innovations, best practices, and more.
MARS : The International Journal of Mars Science and Exploration
Open access (free), peer-reviewed journal articles on science, technology, and policy of Mars exploration.
Sky and Telescope
Articles on space science, astronomy, observatories, planetariums, telescopes and celestial events.
Sky Watch
Popular magazine for amateur astronomers, articles focus on news, equipment reviews, stargazing, and more. Be sure to check out the regular feature on sky events by month.
Solar System Research
Peer-reviewed journal with articles on the elements of the Solar System: planets & their satellites, asteroids, comets, meteoric substances, & cosmic dust.
Databases
Access Science
An online version of McGraw-Hill Encyclopedia of Science & Technology and McGraw-Hill Dictionary of Scientific and Technical Terms. In addition to 8,000+ articles there are biographies, research updates, and science news. The student center provides study guides and bibliographies.

Gale Virtual Reference Library
GVRL is a database of 27 encyclopedias, almanacs, and specialized reference sources for multidisciplinary research. Look here for biology, chemistry, nursing and medicine, sociology, history, education, law, and more.

Science Direct
Full text for over 890 peer reviewed health and life sciences journals. For best results click on SEARCH to get started. Limit your search to SUBSCRIBED Journals.
Coverage Dates: 1995 - Present
Last Update: 15 May 15:46